Rose
, have an absolutely fabulous time this
holiday season
! Happy Travels!
Ophelia
, the same goes out to you!
Joyeux Noel!
I left the Big Apple this morning en route for the sunny Keys! I am finally here, and after a morning of travel and an afternoon of fishing I am ready to "
hit the hay
"…I am
exhausted
!
Absolutely
and
utterly
exhausted! A perfect, lazy way to start the holidays!
This holiday also represents the last few days '
off'
I have, until the start of my
exciting and new internship
with Sofia! I begin at the start of 2010 and am beyond ecstatic!

So…what to do to fully enjoy these last few days of freedom?!? No Christmas would be complete without sweets and treats galore!! Let the baking begin! So with that, let's let visions of sugarplums dance in our heads!

Tempted by a tropically coconut-covered Snowman?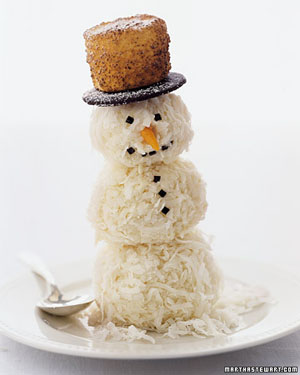 A sugar-coated home-sweet-home delight?

A pearl-encrusted snowflake?

A star-frosting adorned Christmas tree?

Or perhaps blossoming poinsettia vanilla cupcakes...

Let sugar-plums dance in your head and let the magic of Christmas, Santa Claus and the Holiday festivities transport you back to childhood and magical memories...

Twas the night before Christmas...and all through the house...not a creature was stirring...not even a mouse...

Sweet Dreams,

Flora xoxo