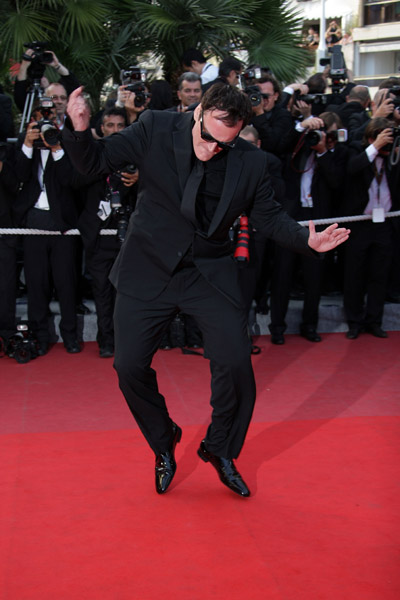 Ladies,
Ophelia, how was your
first week back?
I'm glad you are back in the game despite your hesitations and slight disappointment, I truly believe that you are taking
2 steps forward and NO steps back
. Mark my words, beautiful lady, you will be heading a magazine of your own one day! Until then... chin up... and impress anything any anyone that crosses your path, because it is all about your rolodex.
While you two girls plan your rendezvous in Paris, this eternal intern is soaking in all the excitement of Oscars week. Every morning I pass by the busy intersection of Hollywood and Highland where the academy awards will be held in just a few days.
With the Oscar weekend approaching, I find myself rooting for a person that should not be an underdog... but somehow has become exactly that! Inglourious Basterds is nominated for 8 awards and is up against the critics' favorites Hurt Locker and Avatar with 9 nominations each. If you ask me
(which you didn't but I will share with you my answer regardless)
Quentin should receive Best Screenplay, Christoph should receive Best Supporting and the movie itself should be Best Picture! Avatar should sweep the tech awards and lastly Bigelow should be recognized for Hurt Locker.
Personally, I have been a fan of Quentin since the day I was born...
Reservoir Dogs... LOVE IT!
Pulp Fiction... LOVE IT!
Four Rooms... LOVE IT!
From Dusk Till Dawn... LOVE IT!
Jackie Brown... LOVE IT!
Kill Bill... LOVE IT!
Kill Bill II... LOVE IT!
Deathproof... LOVE IT!
Grindhouse... LOVE IT!
Inglourious Basterds... LOVE IT!... LOVE IT!... LOVE IT!
xxx Rose